Grepolis Team

Ahoy Captain!
Enemy ships are on the horizon! The great battle at the Aegean Sea is about to start!

Your scouts have spotted hordes of enemy ships gathering on the horizon, the Aegean Battleships is back! Your task is to seek and destroy enemy ships in the misty seas, to keep their forces from your shores, and protect your citizens! But of course, sinking enemy ships pleases the gods, and Ares will reward you with some unique rewards never seen before. Will you answer his call and annihilate your enemies?

The fight over the control of Aegean Sea will start on
September, 16th at 10:00 am
server time. You have time until
September 30th, 23:59
server time to sink all the enemy ships and collect all the amazing rewards.
More information about the mechanics of the event and it's special rewards you can find on our
wiki
.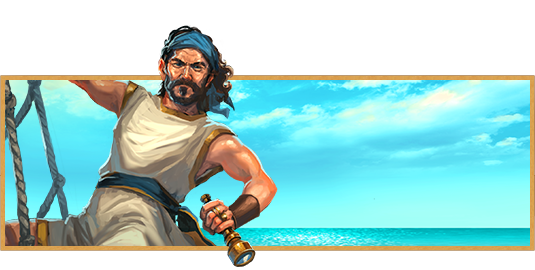 Once you start the event, you may notice a new spell type available in the prize pool, the
Divine Battle Strategy
. This new spell type is designed as part of our response to community feedback on Divine Senses and Divine Acumen powers from past events. Over time, it has become clear that we needed to make changes to these spells to ensure they're balanced, and work well with their intended use. Below is an example spell description to help better explain how it works:

All battle points received while this power is active are increased by 100%, with the exception of battle points from Colony Ships, and any type of transport ships. This effect lasts for 2 days.
This affect is applied to all your cities.
You can only receive an extra 10,000 battle points with this power.​
Divine Battle Strategy offers a similar experience to the old powers, by increasing the Battle Points output whilst active, however, they are now capped to a maximum amount of received additional battle points. It's important to note the above is an example, and the values you will see are based on game stage, much like other reward spells.
Once you reach the cap, the power will expire, you use another spell and reap the benefits of improved battle points once more. Initially, the spell is being released in a relatively limited manner during this event, but over time, we will likely introduce it to other events once we see how it addresses the issues raised with the old powers!
Tell us what you think about this new naval-themed event in
this dedicated feedback thread
.
May the winds favor your ships and your shots find their targets!
Yours,
Grepolis Team