Proposal:
I figure a lot more players would stay if they knew how to communicate with other players. Sadly this is not the case but with a simple guide it could be.
Have you Checked the 'Do not suggest list/previously suggested ideas' in the 'Archive'
No, but I've checked a lot of threads and non are like this
Reason:
I think most people leave because they are bored or can't figure out the specifics of the game, tutorials like these would put more people in alliances and allow them to communicate with other members properly.
Details:
It's just 2 simple guides for the messaging system and Alliance's/Alliance Forum, after you had done some building a message would come up asking if you want to talk to the player next to you then it would take you through messaging. And after you accept an invite from or create an alliance the alliance tutorial will come up taking you through the basics of the forum and the alliance overview.
Messaging Tutorial:
Alliance Tutorial:
Visual Aids: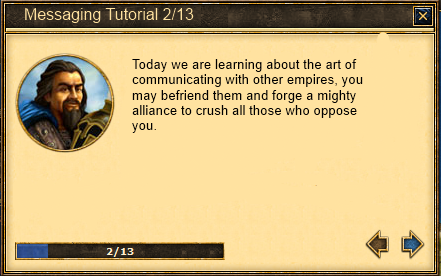 Balance:
There will be no impact on other game features
Abuse Prevention:
Nothing I can see here
Summary:
I think this will keep a lot more players and will allow Grepolis to grow and become more exciting
Last edited by a moderator: