Grepolis Team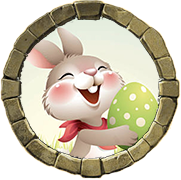 Our Easter Competition will be a little different. Zeus has had a chat with the Easter Bunny (he's called Thumper) and asked him to spawn cities in all worlds**, To find him go to any world and click
ranking/search/Grepo Easter Bunny
.
To take part in the competition you need to work out the answer to the daily question.
Message Thumper in game
with the answer. To be clear this means send a message to the Grepo Easter Bunny. The question will appear here and on the game profile.
For those of you who had to hit VM for Easter - in this situation you can reply to this thread and that will also count as an entry.
Question1 – for Friday is:
Which animal is the Easter Hen exclusive hero Anysia holding (clue - Thumper doesn't like them)?
Daily over Easter, that is Friday/Saturday/Sunday/Monday there will be random Gold prizes for participants. You can enter in only one world per day but all entries will stay in the draw for subsequent days. Thumper should appear on Thursday – unless he eats too many eggs and is sleeping it off!
Any questions message me. Winners will be posted here.
Prizes per day:
1000 Gold
500 Gold
200 Gold x 2
150 Gold x 4
**Excluding Oricos on the basis they are close to 300 and we don't want to cause issues. If you are playing Oricos spawn a city in another world to interact with Thumper.
A Happy Easter to Everyone from all of us.