Ladies and Gentleman, and harborage's of criminals, I bring to you today an edition of Grep PNP!!
"Throughout history, it has been the inaction of those who could have acted; the indifference of those who should have known better; the silence of the voice of justice when it mattered most; that has made it possible for evil to triumph."
- Haile Selassie.
It is true - this is a game, and should therefore be taken lightly. Inherently through the spirit of gaming, a lot of people value honor, respect, and loyalty. Now those virtues can often be cast aside for the other side of gaming, the trash talking. And I too am an advocate of the trash talk.. but there is a fine line between that - and just indifference when it comes to certain values, and the inaction to stand by those values.
"In real life, it's not what a person says that shows us who they are. It's what they do. The content of a person's character is revealed in action and behavior. Who a person says they are, or thinks they are, doesn't necessarily reflect their true character." - Rachelle Gardner
We sent a few investigators to go dig up some juicy details of what is currently going on with what is fast becoming known as the House for Criminals.. or as they call themselves Event Horizon / Slap.
It is said that Virtualself and his people wanted a good fun world, but they where busy making back door deals and working with the lowest of scum they could find in order to turn it all in their favor. Spawning off that we have our first photo dug up by our investigators, an actual EH recruitment poster!!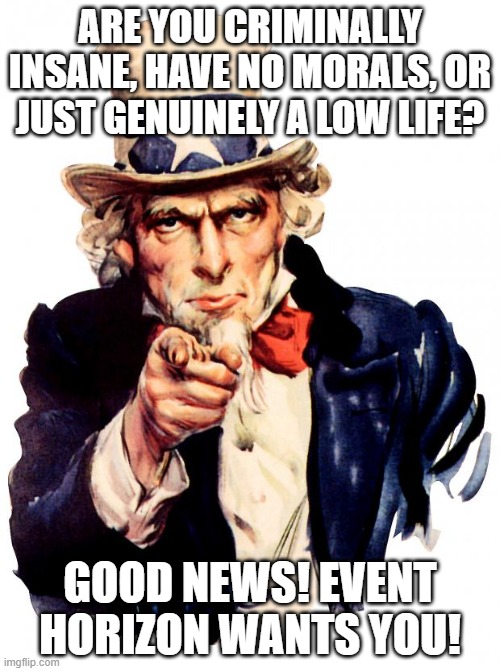 As you can imagine this sparked some interest from the grimiest, darkest, lowest reaching corners of the grepo world, and who popped up?? None other than the mad quack himself... boy I think VS was harder than when he was busy catching STDs over the summer... "An easy win ??" He said, "JUST WHAT I WANTED... its ok you are a complete low life - I see that.. its ok... we'll get our resident know it all to back you up on this."
Meanwhile, Angodude was off doing his daily Liberal routines of educating the town buildings on what to do and not to do, before being called to come to the rescue to try and save his teams honor and reputation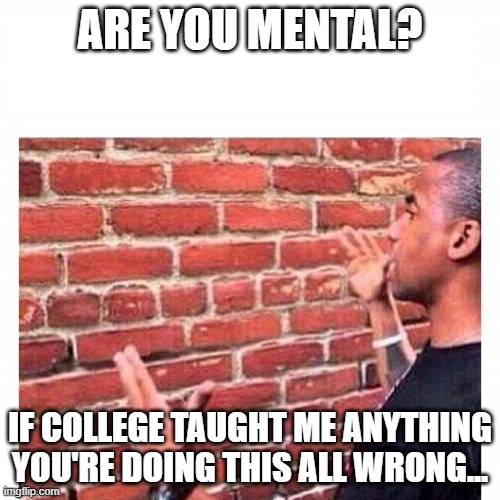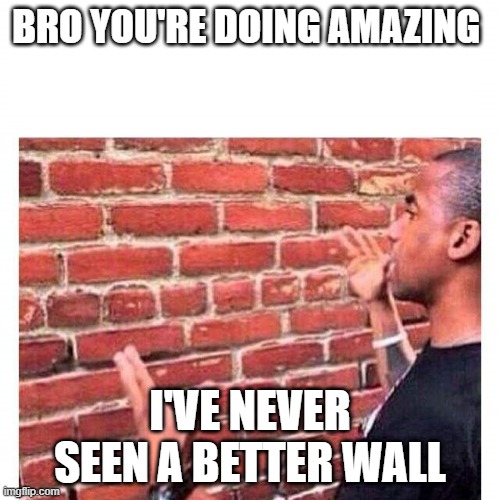 Ango of course, true to nature, whenever an argument can be heard, rushed to the scene at the drop of a hat. "I'm here, I will say whatever I need to say, despite if I truly believe it or not, to try and remove this stain on our names!!" It's argued whether or not he said this - but trust me bro - the source is good
Seeing all this, our team of investigators had to know how the rest of EH leadership felt about this, but when Mel was found, it was realized, this is just how things work over their and we decided... it was a lost cause..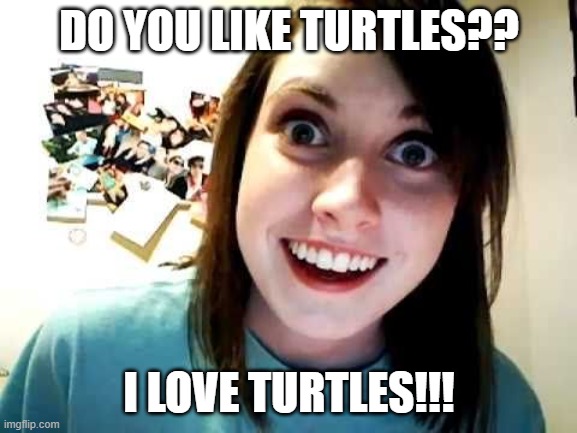 It was concluded at this stage, that EH was completely ok with the lack or morals and integrity being portrayed from them, and where completely indifferent what that meant to the Grep community on a whole, but hey, eff em if they can't take a joke right?
Enjoy all.
Mole out