[HR][/HR]
A couple of days ago, a new feature was implemented on the beta server: it is now possible to buy warfare packages in exchange for money. Not for gold (which you've possibly already bought), but for real money (so you will have to purchase by issuing money instead of buying with money you already spent (on gold)). This was announced on the Dutch server by a regular player, who opened a topic discussing the subject, not through our CM, a team member or a notification by InnoGames. The following images showing the new features are taken from that topic: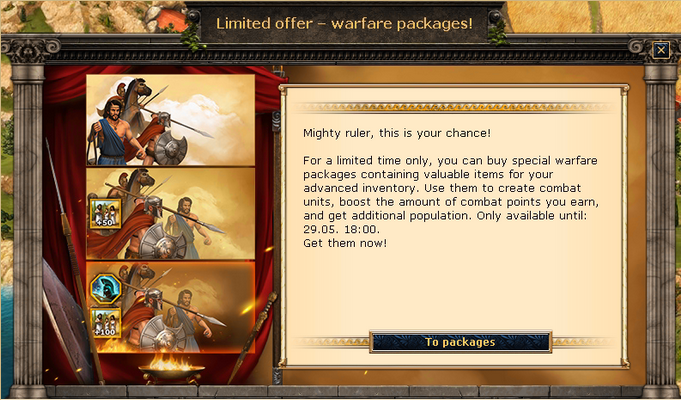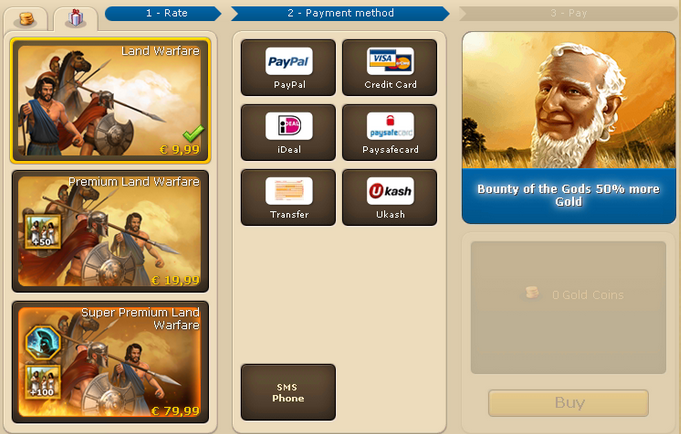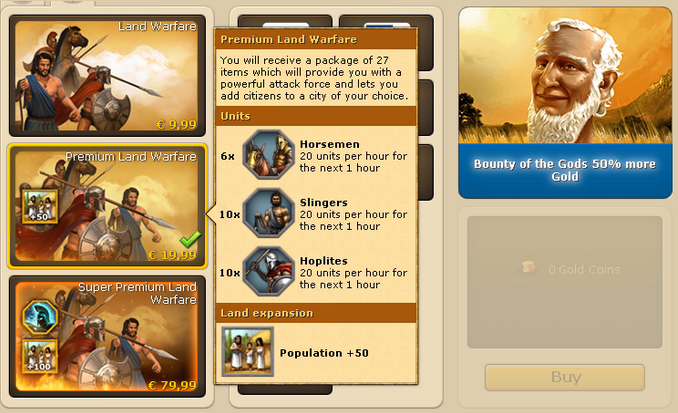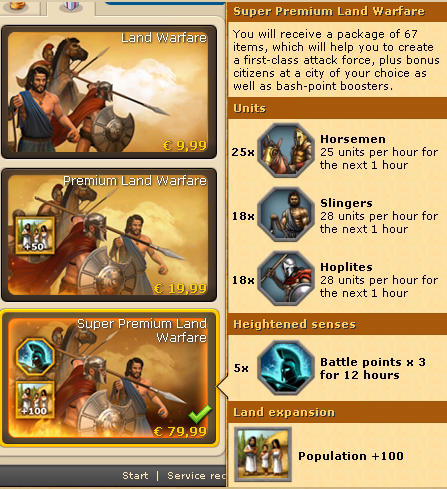 In exchange for a certain amount of money you get a package of troop reinforcements and, depending on the amount of money spent, population expansion or triple battle points. Pay particular attention to the package that costs €80, it contains 5x extra BP with a triple effect that lasts 12 hours (depending on world speed, presumably). These are idiotic benefits that will render Grepolis (Gold Polis) even more pay to win. The enjoyment regular players (who use little to no gold) get out of the game is threatened by the implementation of this feature.
Recently, instant buy and gold trade were added to Grepolis, which many players (including ourselves) considered enough of a reason to quit this once enjoyable game. Those features were added, even though InnoGames has known for a long time that these functions are extremely unpopular, and now this. As a community, we have to draw the line at some point, and for us, that point has now been reached. Under no circumstances will we allow the game we once loved so much to be screwed up even further by the money-grubbers at InnoGames.
We notice, and we conclude that:
- Grepolis is being ruined by the many additions to premium / 'money' advantages. In addition to an overflow of events, IB and gold trading, players are now given the opportunity to buy troops and other bonuses directly with money. This feature is currently only implemented on the beta server, but InnoGames is undoubtedly considering implementing it everywhere (Read: they will simply make it happen, just like what happened with IB and gold trading: a decision that was opposed by a large majority of players).
- The InnoGames team has been focusing on the wrong things. The Roadmap 2014 already included the development of a new end game (something that players would really like to see), but this has not been implemented yet. The game still contains bugs that they can easily deal with, but time after time things go wrong (including updates). New additions / other changes are usually not welcomed by the community, we would prefer for them to adjust things that we're happy with. InnoGames needs to represent our views.
We request that:
- The "Warfare Packages" will not be available on the EN (International) servers, unless the following conditions are met:

1. There is a new endgame that a clear majority of players is satisfied with, the widespread screwing around with failing updates and changes stops.
2. A clear majority of the players is in favor of these packages. If the majority does not want them, they should not be added.​
- The EN CM along with his modteam makes a strong statement against InnoGames. Worst case scenario, they would have to go on a strike, that would be a means by which we certainly could achieve something. If our CM does not oppose this change vocally, this is only his own fault. After some checking, it is clear that the modteam is against the implementation of warfare packages, quite clearly in some cases. If he does not stand behind his community in this matter, it should be obvious that we lose confidence in him.
We want to ask everyone:
To post in this topic and make it clear that you are in agreement, support the petition, and don't want the warfare packages to be added to the game. It would be greatly appreciated if a link to this topic would be spread ingame.
[HR][/HR]
This petition is signed by:

Flameinducer
Genios
WhiteRose SS
Dr.Wood
Hasan Naqvi
Garydam
ThasossCZ
pixie1968
Lombardfie
Tenere
TheSime
hristijankiko
deno zvani sexy
arichibi
Rutger 101
paulf41
ratxum
estas
pillu
babybeani18
Valkeneth
maxph
Diane of Simi
Colorless3
VinayakM
Salander25
-Krueger-
Waking Up1
noxnox
Paul the pic
mj70211
SWilts
dragonhunter
ensis
Asukon
schorpioen22
xxsmiler87xx
HBB-1
Paiopustara
raistlin580
kiel haeusler
Digital Mystikz
bibo5o
drgrep17
moonwalker72
Ghonatrix
FletchRFC18
tryb
yiannisalkeos
Arthuritus
Archon of Corinth
CRYPTIC DEATH
Aashish Angels
Bond007
impreeetysure
scavenger2020
oskarghost96
Kimimela
Kovalevy
Zero Point
Aphrodite.93
Djrlol
freezers tigers
signfitter
Ignisa
Virtualme
yccycat
Sveinung Nordli
Fluidmind
greengorila5
zna se
Forwandert
DukDodgers
person67
adz 7
Walter Bolling
lou2697
sacmaster211
calldan
Gran Cerbero
callum97
DrunkenBaws
same-skamiminda
SH101
kdaroks
Machida64
Scoot99
Admiral Naji
Apoc Mugz
Rock5
2suljo2
Hassan al-Sabbah
Tzar Assenav
Joseph Nieves
MyLittleUnicorn
baskabel4
Gond
Cheater of death
Bouddicae
Prateek the Great
the bat
?who?
Curly moe
faithlesstorment
blastclaw
exile192837465
givemeten
Selecues
TheWildOne
ArielJade
MissusR
Makizpwn
TheDoktor
startingout
kev1nmills
pianoman98
Z EX
Freedom76
0spore1
Depraved.
Dizzi777
Tea city
Fist Of The North Star
Xzenossi
Dedovya
philvgr81
stevious Ballista
drinornoli
geoffb29
Saib0t
Jorisva1
Excaliber76
Canby
Milgo11
kingcharles09
Decimators
Guido-San
Omniverso
Winchup
Spartans189
GoldLemur
Queen spunky
Mauvollis
Whitewiz1
chalna
ThCRiCH77
Night-Walker
Yo185
mkemal
Skullyhoofd
Slothbozeman
Deity454
Bradykin
Wiccan of Darkness
Atdhe9
mikeyg46
Master General
NitsuaBaron
Surabaya Jenny
The seeker of serenity
ViciousDeeds
Dolphin Safe Tuna
tom creed999
dev3
V Dremora
chuckh88
redclerk
Wallsonius
Sparticuster
The Smilodon Fatalis
figtree2
jack9r9
Zarun
businix
Ruthie2
Casabianca
wouterjs
Quackmaster
Chrysirofax
Kings Archer
Cilgen
Terrortubby
TheCult
snailslayer
chaosmaster5
ana perssons
j h k
THORTACUS
BeerWench
ShreftyThred
moobaa
AstagaNaga
Itlan
butlersun
FlcoBlades
Komagos
Druvi
Tjaard
Dementivs
sean nolan12
Baldarse
Brandr Ursur
Pericles.
Haraxvati
robbinb85
fireflame3
GreyNomad
schorpioen22
L8RUNR
dehuntsman
StAthanasius
Shingzu
Telemachus23
Rickardos
lastmantodie
addy10
thewilsh
1959andy
DR-DOOM
LordMende
Nichy85
Cleopatra VIII of Egypt
herbanion
The hague philosopher
mungus1974
Hyper
MysticalJe
D0ppler
Frazzle27
Gopherglory
Terrarizen
Simon28
Courtney.D
Hesparus
Reodso
Graeme
-Cynosure-
Vevik
dooXX
Aydin.B
Espire
Staran1
Suntoll
unit72
Diony
silverbullet1010
saltyjesus
SparkyVr.
Iamthetable
randburg
Greep
Spongebath
BEERtje BIER
Shingzu
sylergcs
EofA1
Dan10000
WooDoo Hunter
Ellelarondelle
wolfinstine365
eduardo
Gregorius.R
happy greg
dobardan
patchus
Bearissimus
Heliumboy
Sjsharks boy
Chillilluminati
Vernico
Sonogold
Mikek69
Donpj111
boxes and beercrate
thefighter59
-hooligan-
Frinkie
Sternoff
Alex-II
Karlo Makaj
Phears
Jaaaaaake001
OPYUS
Rage for Order
399458
Kernow84
The Agron of Ilyria
fireflyfrank
bethanyysalter
Bob the Third
miknel
mostbanned
tror under
rorie2
Occin
Sad--Panda
florero
BlackPierre
Soul.Fire
Axe Battler
Mika37
bagerloss
Tartarus
wheredevil
Nazgul Angmar
Galrean
arnotje18
sylergics
Pittakos
Guldberg
CoyoteStarrk
Zephyria
awmg
Summers400
Susi17
bonzobrok
Ivan188983
fatboy73
Nemesis87
prt50
asapreed
postokolos
MasterMadBones
Beetroot123
Eds Tweety
Shellayne
Mini Veteran
justacharlie
Carlos Vela Club
Juana de Castilla
icram334
kedo
Varun
Lord Vulcanos
Scorpus79
Kneekap
Rezod21
tipco
Kbossu
Mike62
stiff upper lip
Master Craftsman
ximlin
AtomicBlonde
dazzo9
Bisceglia
Dude Ranch
Shish kebab
taomantom
Phaeax
blastwave
Juulna
silverg
FCUM1
peccA76
jpmccull
legendica
sambandha
Ceolwulf
Uncle Bulgaria
Gillet
RIJNFRONT
KungFuChicken
quagmire
Lord Celticrates
Revengseeker
davemac41
Benson001
alu man
BriarMoss44
mafsje
Paperwait
OIAIO
sevn-up
maxskiblokski
DoubleThink
tiger4702
DarkForestFox
Cato99
Zephyria
HyDano
mars111222
Ranga1
25 2 Life
AnitaBeer
Hallicus
Zapeeer
giggsy11
Firesate
zenopolos
toon mad
Abbacus
*Adasko*
LittleCla
Nickry
smok4tribe
plodvs
Gompus Rompus
faiszarn
Socratez
Eider The Swift
Eziu
larceny
kalexclese
grepopatamus
Kyer Sabree
Legacywms
trav6612
DouceOmbre
McLellan
Mundunogo
Abaddon the Despoiler
Invictus44
Hathor01
dylan murphy
ArcherQueen
The Grep Rimmer
TD Brutus
Lollero
broe
LegacyCemil
Link of Time
bend24
dadofwildthang
Selecues
Note: Thanks to Dutch servers for giving me the format to make this, we hope that together we can stop this from ever happening in any server.
Players to recognize: These people spread the word, and helped get this awesome activity and signings!
Valkeneth - Put news up in The Oracle of Zancle.
Quackmaster - Put blog post on his website for the script.
Everyone that signed!
We already have a ton of support, but we need close to every active forum poster signing, then grepolis will see that every person hates this, and this will succeed where other failed!
Last edited by a moderator: