Hello fellow Gela forum goers and players. I am bringing you the first edition of the Gela Times which I hope to make either a weekly or bi-weekly paper depending on how much time I have for it. Anyway that's enough chitter chatter lets get into it.
This week I have secured interviews with leaders of 4 of the most prominent alliances on Gela. Stef1991bacic of
The Fallen
, Diane of Kefalonia from the alliance
Krypteia
, Th3K1ndr3d from
OCEANS Veterans
, and
DeathwishX13
of Malicious.
Stef1991bacic
Why did you start your alliance/where did you guys come from?
I have no particular reason, I join this world with some friends, and we decided to make an alliance. Most of our members are randomly selected based on their activities, positions and experience.

Some call your alliance an MRA what is your response to this?
A lot of people use the word MRA and have no idea what it means.
I do not plan to teach them what it means, let alone learn it.


You guys are in ocean 54 which will be a hotbed for action, how do you guys plan to deal with this?
Yes we are, and we will be the main target, but the good side is that here will remain just good players, who will have lot of BP and be able to conquer more cities before others.

Any alliances besides your own that you have been impressed by so far?
There are a few, but I do not want to comment, this is still the beginning, most of the alliance will fall a part in a 3 weeks.
Diane of Kefalonia
Why did your alliance come here/where did you come from?
Most of our players are from Tau, where we had dominated the world for a long time and had completed the Wonders.
The rest of our players are friends from other servers, friends of friends, and players who asked to join.
We came here because there is nothing left to do on Tau and the world will probably close soon. Gela is speed 2, and we have waited for a world with suitable settings for some time.

Who do you see as your alliances main competition right now?
Whilst they are still merging and shuffling around, I would have to say any of them. I recognize good players from several servers here.

Which alliance has impressed you the most so far? Not counting your own alliance of course.
One city per player and opportunist ABP's from players on the same island is not a measure of the calibre of the alliance. Therefore I would have to say that all other alliances are currently an unknown quantity.
Th3K1ndr3d
Why did you start your alliance/where did you guys come from?
The alliance started as OCEANS 37 on Chi and was formed by MissusR and mensis I believe. I joined the alliance on Corinth.
OCEANS VETERANS comes from Corinth and was created after a merge of a smaller alliance Grepo Veterans into OCEANS.
Who do you see as your competition in ocean 45 as that seems to be where your alliance is based?
There are some alliances close to our size there, but I'd only say Malicious and OKXL can be seen as real competition. Neither is based in O45 alone but both are close enough to the border.
I'm sure I don't need to explain why Malicious.
And if you're wondering why OKXL.. Like I said we came from Corinth and we remember that in spite of his very late start in the world *Adasko* was (and still is) no 1 in ABPs there.
Are you pleased with your alliance progress so far and where do you see your alliance in 1 months times?
Many of our players are doing great. But at the same time I hope to see our below 1000 points players growing faster. I think we're doing ok in ABPs too, but what I'm really looking forward is seeing some great teamwork once we're ready for conquest.
DeathwishX13
Why did you start your alliance/where did you guys come from?
Well, when I enter a new world I tend to build my own alliance. I like to make sure the alliances I am in are small in numbers and active, experienced, and aggressive players. For that reason I enjoy being in charge of recruitment and player personal. I came here with LBH (LitleBigHorn) who is my mate from the great D.N. Sigma - Together we started Malicious and have ran into a fair amount of old friends in the process.
Who do you see as your alliances main competition in the next month or so?
In the short term, The Fallen. I guess we are already red to them so it's their funeral right? I think once conquests start sailing the waters of Gela that they will be our prime targets. This is just my personal opinion but I don't think their leadership has what it takes to organize 150+ members into a war with us. Chaos will erupt and anarchy will take place of it. Once they start to see they are up against a foe they can not beat, and begin to crumble who is next is yet to be seen. I'd say long term OCEANS VETERANS is most likely our biggest competition. They are just a little west of us and should lock down O45 with relative ease. Which direction they decide to move from there will be the deciding factor if they will be our competition or someone else s
What makes a good alliance in your opinion?
Three key things, Organization, Coordination, and Communication. Numbers don't make a good alliance, in fact, I have never seen it work for an alliance. They key to building a successful alliance is getting a tight knit group who work together for the greater good of the alliance. In larger alliances it's extremely hard to maintain control of all the players and to keep everybody on the same page. When you have a small handful of proven players who are willing to work together and fight alongside of one another at all costs, you have the right formula. Additionally, aggression will always be the X-factor in a successful alliance. Those who sit on their units and wait to be attacked, are just waiting for the inevitable to happen. Those who take the fight to their enemies and are relentless in doing so will always have the upper hand in this great game we call Grepolis.
______________________________________________________________________
In other news....
Malicous takes top ABP
Malicious has taken an early lead in abp with a mere 42 members compared to the giants of the server that closely trail them. Will this method translate to success once conquest begins? Some say yes, some say no. We will all know within the next few weeks.
Krypteia emerge as the number 1 alliance.
The Fallen held the top spot for much of beginners protection and for awhile still after it ended. After releasing cutting some members though that spot has now been taken by Krypteia
_____________________________________________________________________
Top alliances of each core ocean
54
The Fallen
55
The Fallen
44
Krypteia
45
Oceans Veterans
This issues rankings
Points Rankings: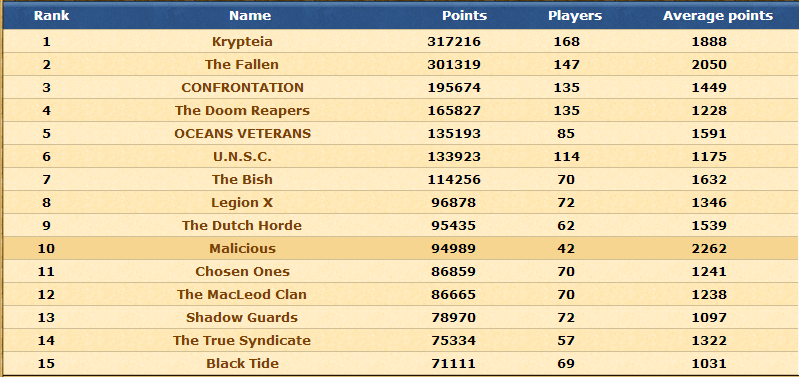 ABP Rankings: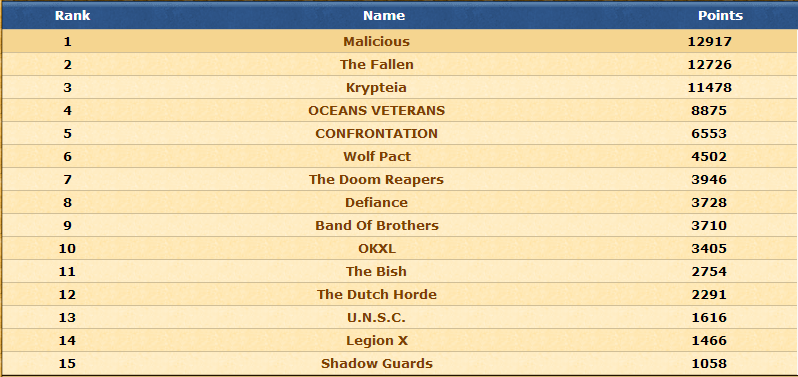 ________________________________________________________________
Noob of the Week
This weeks noob of the week goes to
Hulices
of The Fallen for this gem.

_________________________________________________________
Thats all for this issue. Feel free to plus rep if you enjoyed the paper. Thanks to all of the interviewees for their time. If you want interviewed for the next issue or have a noob report to submit contact me here or ingame @returnofsimba. I will be trying to interview up and coming alliances for next weeks issue. Any reccomendations, ideas, or comments are welcome. Everyone have a great weekend
Last edited by a moderator: