Grepolis Team
On Wednesday the game will be updated to version 2.191. Feel free to post any questions or feedback in this thread.
Changelog 2.191
Dear Community,
On Wednesday Grepolis will be updated to version 2.191. As always there will be a short downtime while the update is applied.
Summary
This version brings a nice new indicator, which will help you manage your number of cities.
New Features and Changes
We added a new Cities and Cultural level indicator to the city list part of the main UI. Now you will be able to check how many cities you can still conquer with one glimpse at the screen.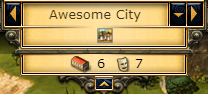 Bugfixes
Players with insufficient privileges will no longer be able to add alliances to shared forums.
The Marketplace window was slightly reworked so that all the tabs are clearly visible, even if the city has a very long name.

We hope you enjoy the update and would love to hear any feedback you have in this thread.
Best regards,
Your Grepolis Team