!!!WARNING!!!
This is a Public Service Announcement
​
A long time ago, in the misty beginnings of time around the 12th of October 2010, the fair world of Kappa and its forums was formed. This place of astonishing natural beauty, was so eye-catching that people from all distant lands began to flock towards it to revel in the wonderful environment of Kappa forums, and for many
millennia
months all the residents lived in a utopian society of peace where merry-making and fun was the order of the day.
Not many people are aware that during this splendid period, events were dictated by a benevolent overlord whose name was Dirk Kuyt. It was this man, whose nobility and leadership skills cannot be questioned, that was the root cause of the single most fruitful period on the fair Kappa forums. An artist's depiction of this mysterious but all-powerful High King has been known to bring fully-grown men to their knees and cry (obviously because of the good-looks
)
It is true as they say, all good things must come to an end, and the Supreme Overlord had to leave the fair Kappa forums and concentrate on other commitments, namely playing for the one and only Liverpool Football Club. He went on to score 15 goals in 41 matches, including a hat-trick against the Dark Knights of Manchester United.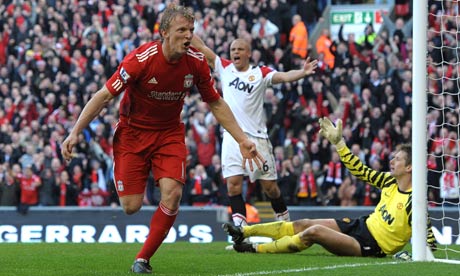 During his absence, the fair Kappa forums had fallen into chaos and disarray. The once glorious microcosm of nature had been turned into a wasteland, with little survivors and a few wild barbarians picking off corpses like carrion crows.
The most influential of these wild neanderthals went by the name of Rudicus. This sick, cold-hearted man has spammed all of this fair forum until he brought about the downfall of it: in order to enable him to transform it into his own gruesome playground and allow his minions to pillage and ransack as they please. Throughout his time in charge, Rudicus has fallen into gluttony and has become addicted to narcotics and drained the forum's supply of food and 'recreational drugs'.
Now, after a long-gruelling season of helping Liverpool to
success
mediocrity
, Dirk Kuyt is back and has begun to fight back against the horrible oppression of Rudicus and his spamming and help the fair Kappa forumites win their FREEDOM!
Cometh the hour, cometh the man.
I am the legendary Dirk Kuyt, and I will defeat the evil of Rudicus. However, I cannot do it alone. I need YOUR help. If you want to rid the once fair Kappa forums to their former glory, I need your support in this forthcoming election. To put it simply:
I need your vote, your fellow forumites need your vote, and the fair Kappa forums need your vote.
VOTE FOR DIRK KUYT!​