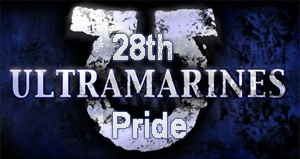 Details of the 28Th Ultramarines Pride.
Recruitment
Open
Diplomacy
Open
We're now openly recruiting in all of Iota
The only requirements are listed below.
Minimum Requirements to join
You must have at least 500 Points , and be active.
If you're Interested send a message to HellHound30000 Or Krediath
Veni , Vidi , Vici
Venimus , vidimus , vicimus
Pact and War issues to HellHound30000 , all Queries to Krediath
We are the 28th Ultramarines Pride.
An elite fighting force designed to Fight and never retreat or surrender.
We will fight to the last breath to Defend ourselves , and our allies.
We will never stop until we are victorious.
We are the 28th Ultramarines Pride.
We are the best.
We are the best now.
We will be the best forever.
For we are the gods of war.
Last edited by a moderator: